The old adage about how the best things come in small packages often breaks down when you're talking about super high-end commercial photography and video production. Yes, all cameras have gotten smaller and lighter, but it's funny how many creative directors at fortune 50 companies still demand that you bring in the biggest rigs.
The Nikon Z 8 changes everything. Nikon's latest flagship camera packs all of the power of the Z 9, but it manages to do so in a far smaller form factor that just makes shooting a joy.
Over the summer I've been traveling nonstop for work, and I have been shooting exclusively, both stills and video, with the Nikon Z 8. This hectic schedule explains why I'm a bit late to posting about this camera. I've been having too much fun with it! Of course, as is the nature of much of my work as of late, it's all under NDA, so unfortunately I can't share much beyond my thoughts and experience thus far of using the Nikon Z 8. And I can confirm that this camera is everything that all the professional reviewers out there are raving about.
The Nikon Z 8's Insane Video Specs
To me, one of the headline features of the Nikon Z 8 is the ability to record Internal 8K/60p or 4K/120p and 12-bit N-RAW. It honestly blows my mind that I can record 8K video internally in a camera that is this small! This is serious horsepower that you can't find in many cameras that are much larger and 10x more expensive. Just five years ago, you'd have to spend $50K to get these specs. It's quite impressive that Nikon has managed to pack them into a camera that's coming in at under $4K!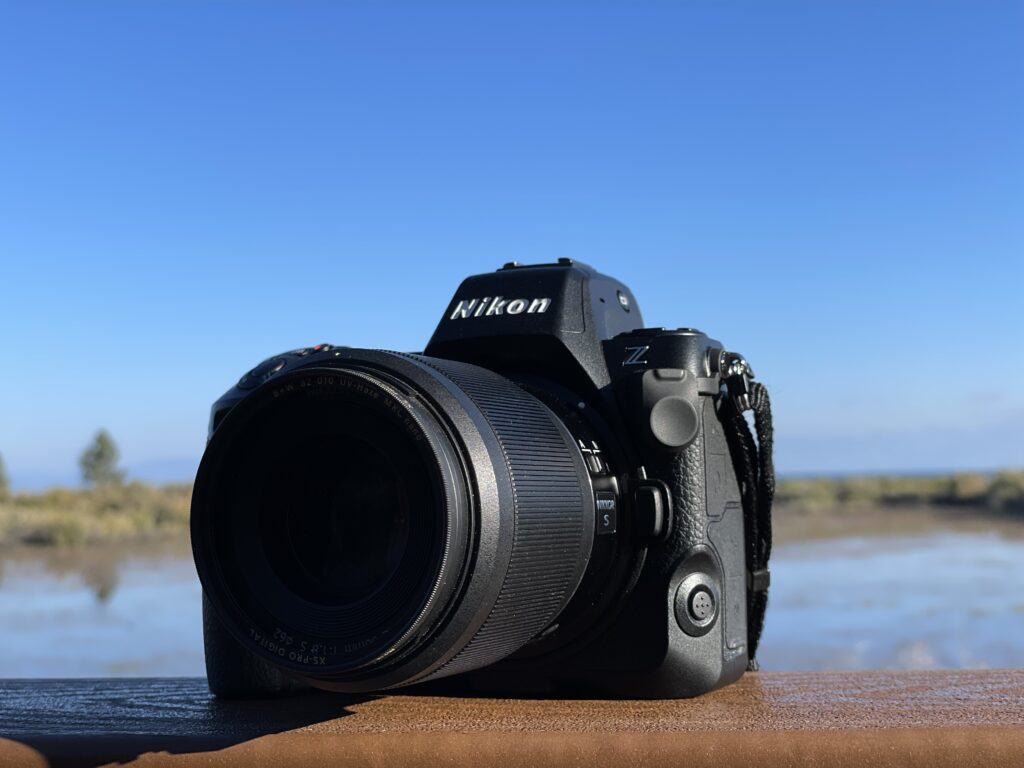 The Nikon Z 8 form factor
As I already mentioned, the Z 8 is essentially the Z 9 minus the big battery and integral vertical grip, which makes it smaller, lighter, and a little less expensive, which doesn't hurt. It has the same resolution (45.7 megapixels), the same full-frame sensor, and the same frame rate of 120 fps at 4K. It's about 30 percent smaller than the Z 9 and 15 percent smaller than the D850.
The Z 8 just sheds some of that weight while retaining all of the flexibility and functionality of a cinema camera. The experience of holding it and shooting video in run-and-gun handheld doc style feels far more nimble, and unleashes that ability to be quicker and more creative from moment to moment.
Z lenses are here to stay
One interesting thing that struck me during the past month of work is that I didn't once reach for my old F mount lenses with the Z mount adapter. I shot everything on Z mount lenses, which made me realize that this line of Nikkor glass has finally reached a place where all of my bases are covered. These lenses are sharp, fast, and have incredible autofocus. Not needing to reach for an FTZ mount adaptor also just adds to the sense that this camera is light and fast and easy to work with.
Surviving real world conditions
From the sweltering humidity and rainy weather of Brazil to the dry, hot heat of New Mexico, I got to push the Nikon Z 8 across some variable summertime conditions, which speaks to its durability. I also shot in everything from golden-hour light to harsh midday light, as well as varied mixed indoor lighting under harsh halogen and florescent bulbs. In all circumstances I was really impressed by the color rendition, extraordinary resolution, incredible dynamic range, and low-light performance.
Bottom line
Nikon never disappoints, and the Z 8 is everything I've come to love about the Z 9, encompassing cutting-edge technology and innovative features that cater to the needs of photographers and directors in the high-end commercial creative space. Now it's just packaged in a form factor that makes shooting really fun. I should also mention that the Z 8 fully stacked with focus peaking, zebra stripes, waveform monitor, and video info display. Of course, not all of this is new but these are critical features. And to have all of them in this camera makes my job as a filmmaker easier so I can focus on content.
It's hard to imagine how it gets much better, to be honest. In fact, I just ordered my second Z 8 which means twice the fun.