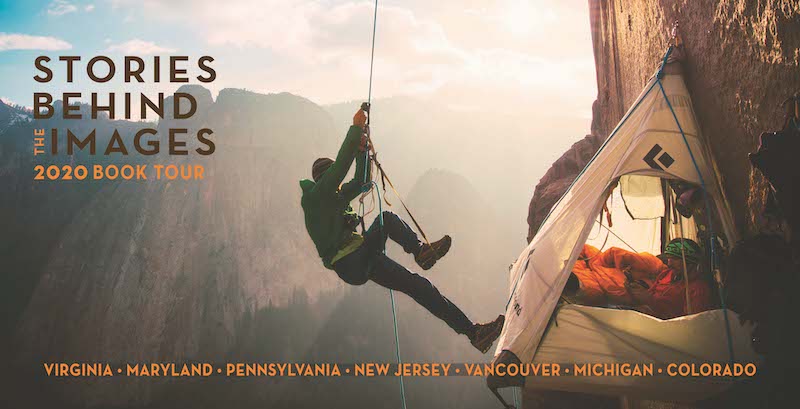 I'm gearing up for 10 days of travel and telling stories, with a new event in a different city almost every day. And I couldn't be more excited.
I'll be honest, what started for me simply as a way to promote my new book "Stories Behind the Images" has become something even bigger: a speaking tour unto itself. I've been humbled by the reception this presentation has received and honored to be able to bring it to new cities around the world.
"Stories Behind the Images" has always been more than just a book. It's become a way for me to share some of my favorite moments, memories, and life lessons of my career, all gathered from spending time in the company of world-class performers and athletes, larger-than-life characters, and great friends. The process of writing this book helped me focus those stories to a point that, ultimately, I can share them in a format I enjoy even more: speaking in person.
I might be the one on the stage, and hopefully, you'll be in the audience, but the atmosphere I most want to create is that of sitting with you around a campfire.
This will be a hectic schedule with stops in Virginia, Maryland, Pennsylvania, New Jersey, Vancouver, Michigan, and Colorado. Storiesbehindtheimages.com has the full schedule, prints, and book information. But here are shows and links to my upcoming events. Thanks to Nikon, the Vancouver International Mountain Film Festival, and Neptune Mountaineering for the opportunity!
Hope to see you over the next 10 days!
2/24 – Arlington, VA – George Mason University – https://www.eventbrite.com/e/stories-behind-the-images-talk-and-book-signing-with-corey-rich-tickets-89987469945
2/25 – Baltimore, MD – Notre Dame of Maryland University – https://www.eventbrite.com/e/stories-behind-the-images-presentation-book-signing-w-corey-rich-tickets-89830195533
2/26 – Philadelphia, PA – Unique Photo – https://www.uniquephoto.com/event/079
2/27 – Fairfield, NJ – Unique Photo – https://www.uniquephoto.com/event/079
2/29 – Vancouver International Mountain Film Fest – https://vimff.org/stories-behind-the-images-with-corey-rich
3/2 – Ann Arbor, MI – University of Michigan – https://events.umich.edu/event/71947
3/3 – Boulder, CO – Neptune Mountaineering – https://www.facebook.com/events/484101382275661/