On February 5, my friend Dane Jackson, who I have known since he was a kid and who I have watched grow into one of the greatest kayakers of all time, lived his dream. He dropped Salto del Maule, a 134-foot waterfall in central Chile that he had been dreaming about for the past five years ever since he first saw of photograph of this stunning feature. His descent ranks as the second-tallest waterfall ever dropped. Although Dane did come out of his boat after he stuck the landing, he achieved a striking first descent with this one asterisk. And as we discovered, it might be the last descent as a major hydroelectric project upstream threatens to turn this powerful waterfall into a mere dribble, adding a certain momentousness to the whole event.
We scrambled to put together a production that would document this groundbreaking descent, and the team at Novus Select assembled the right crew, with me as the director, Bligh Gillies as DP, an incredible local team from Nomade Media, Rafa Boudreault-Simard at Flow Motion Aerials as our clutch FPV drone operator, Thea Hardy as producer, and Bryan Liscinski leading all things post-production. Originally, my fellow Nikon Ambassador Lucas Gilman had planned to join and co-direct, but given the tight timeframe, a conflict made it impossible for him to make it, although had he been there, we would've certainly all benefited from his creativity and expertise in the kayak world.
This was clearly a challenging production given that Dane's descent would 1) only happen once and 2) be over in roughly 3 seconds. Our tasks to create both still and video content demanded that we really think through how we were going to pull it off. There's always a balance between creating safe shots—CYA, or covering your ass—and taking risks that will deliver the striking content that folks will have never before seen. It was actually originally Dane's idea to use an FPV drone that could proximity fly next to him as he dropped the waterfall. On a 100+ foot waterfall, this kind of FPV drone footage had never been created—not that we knew of, at least.
Our tactic here was to establish various, diverse camera angles. We staged eight (8) Nikon cameras in different positions: we had multiple Z 6, Z 7, Z 50, D5, and D850 cameras. Additionally, we had a quiver of Nikkor glass: 2 x 200-400mm f/4.0, 3 x 70-200mm f/2.8, 3 x 24-70 f/2.8 and a selection of fast prime lenses. We used the D5 to shoot stills because we needed fast cameras, firing as many frames per second as possible. And we used all of the other cameras to capture video.
Additionally, we enlisted GoPro action cams, placing one on Dane's helmet and the stern of his boat, as well on the four safety boaters at the bottom of the waterfall, who were ready to rescue Dane if things went wrong.
We also had one DJI Inspire and three DJI Mavic drones in the air.
All in all, we had close to 21 cameras shooting still and/or video of the action. We captured an abundance of "safe shots" but the real success from our production was the riskiest shot of all: the FPV drone shot tracking Dane down the waterfall. This FPV drone is a custom-built rig that flies incredibly fast, with no gimbal and a GoPro action cam mounted to the front. (Of course, we stabilized the footage in the aftermath.) It was a risky shot, but Rafa from Flow Motion Aerials nailed it.
Again, given the parameters we were working with: a one-time event that would last but 3 seconds, we needed as many redundancies in angles and types of content as possible. On this shoot, we were all wearing lots of hats, and managing multiple camera angles per person. One of the technical difficulties we experienced involved using the remotes to trigger two still cameras, and we think that those triggers failed due to the sheer number of drones we had flying at the same time. It had all worked during our testing, so the reason some of our cameras didn't fire might always be a mystery to us, but we basically think that the culprit had to do with all of the RF interference from the drones. Who knows …
Ultimately, we didn't get a wide high-resolution still or a tight high-resolution vertical still of Dane. We did capture a wide from one drone, and also I used my D5 with a 200-400mm f/4 Nikkor lens to shoot a tight horizontal of Dane as he dropped down the waterfall. In other words, all of that redundancy paid off.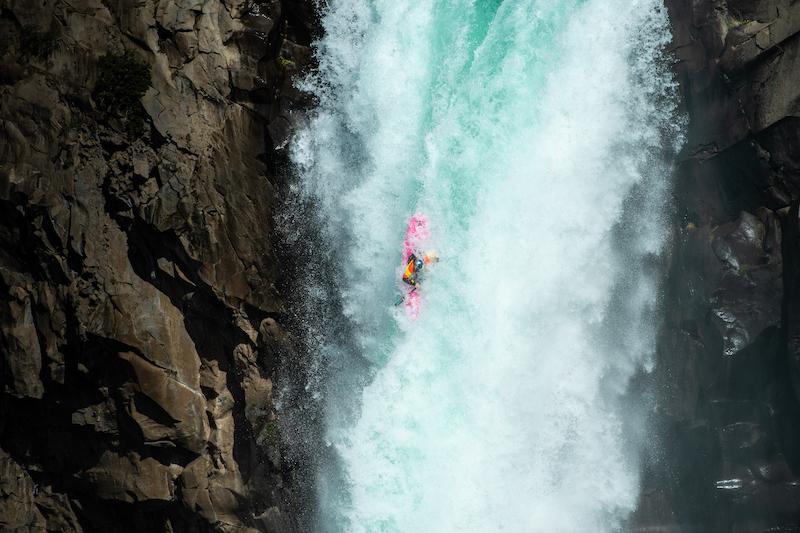 It's been amazing to see this story go big across so many channels, from the New York Times, USA Today, MSN Sports, Action Sports Today, CNN, Daily Mail, Digg, and it went viral on social media. I can safely say that this won't be the last time we work together with Dane Jackson, who, as a side note, because of this production, is now fully stoked on using the light, compact, powerful Nikon Z 50, which he is carrying with him as travels around the world in search of more kayaking adventures. Stay tuned for more of those adventures coming your way …