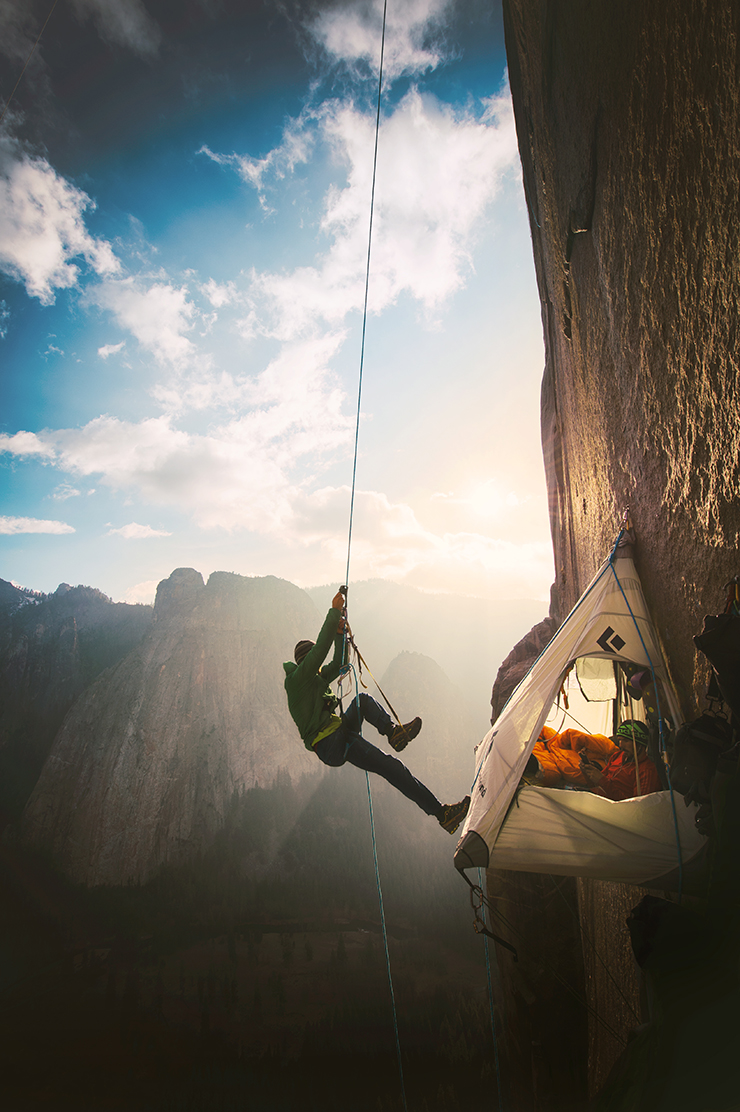 ©Corey Rich / Aurora Photos
Seven years ago, my friend Tommy Caldwell asked me to join him on El Capitan.
"I think I've found a potential new free climb," he said. "But it's really, really hard. I don't know if I'll ever be strong enough to do it."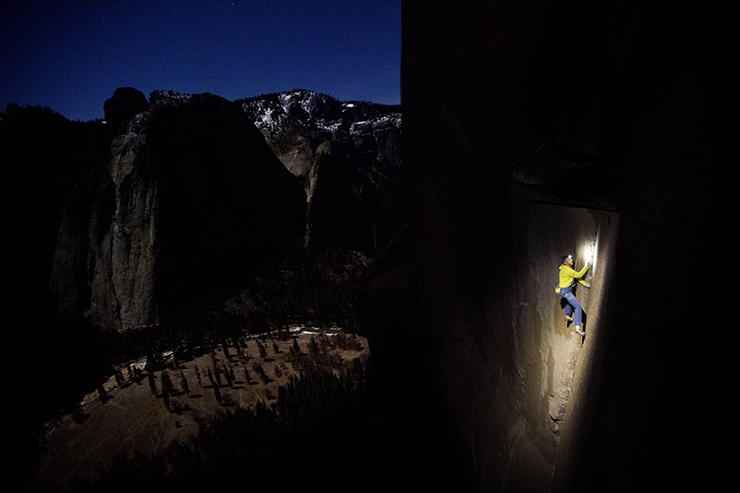 ©Corey Rich / Aurora Photos
That climb, of course, ended up becoming known as the Dawn Wall of El Capitan. And unless you've been living under a rock the past month, you've probably seen coverage on television, in print and/or online from all the major news sources about Tommy Caldwell and Kevin Jorgeson's historic first free ascent of the Dawn Wall. I'm not sure where to even begin in terms of rounding up all the places this story appeared.
This January I spent 10 days on the wall with the climbers, working alongside Brett Lowell and Kyle Berkompas. Brett was primarily focused on capturing motion for a documentary film that will be released by Big UP Productions and Sender Films. Meanwhile, I was primarily focused on shooting still images. However both Brett and I each wore both hats, shooting still and motion in parallel.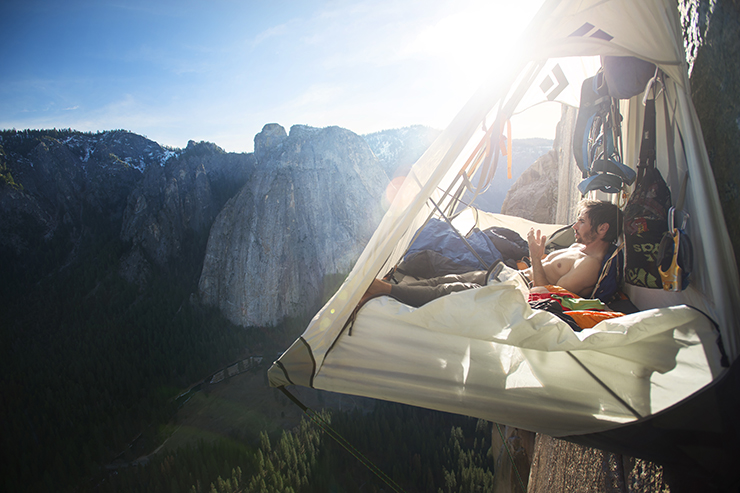 ©Corey Rich / Aurora Photos
In a Q&A with my friend and writer Andrew Bisharat for National Geographic, I was interviewed about the creative process we used to document the climb. Read our interview here.
We also continued to work with Andrew on various stories for Nat Geo as the climb progressed. Photographs were sent to Nat Geo in real time, and posted each day to their Instagram feed. The online stories on Nat Geo received record traffic for the organization.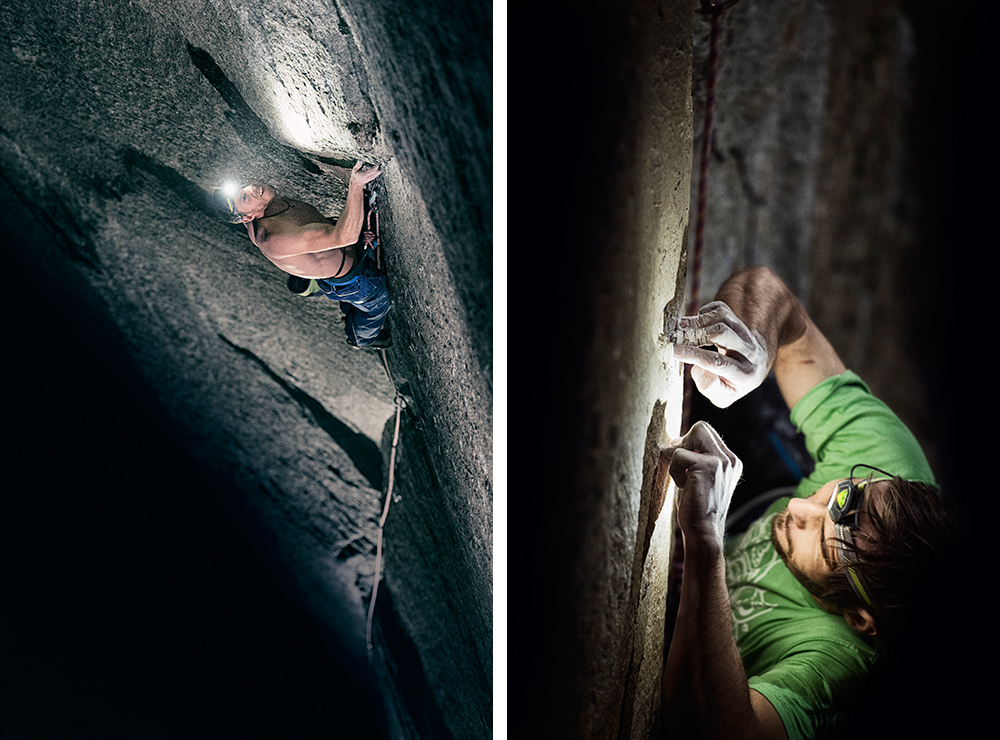 ©Corey Rich / Aurora Photos
The New York Times also put together some incredible reports on the ascent, with the Pulitzer Prize-winning journalist John Branch reporting from the Valley floor.
Outside Magazine ran a huge photo gallery online. Instagram posted one of our photos to their feed on the day the Dawn Wall was completed. Stories appeared on NPR, CBS, NBC, FOX … and the list goes. It's no exaggeration to say that the Dawn Wall was being covered everywhere. Even President Barack Obama attempted to call the climbers on the summit, but poor reception prevented them from connecting. Instead the White House gave a shout out on Twitter to Kevin and Tommy when they reached the top.
I'm still trying to wrap my head around why the Dawn Wall got as much attention as it did. It was a strange dichotomy for me, Brett, Tommy and Kevin to be doing something that we would've been doing anyway, only it was with the world watching. It was a spectacle to see, and I feel really fortunate to have played a part in documenting the whole adventure.
I'm not really sure why the general population stopped and took interest in this niche sport called rock climbing to this degree—but I'm also not really sure it matters.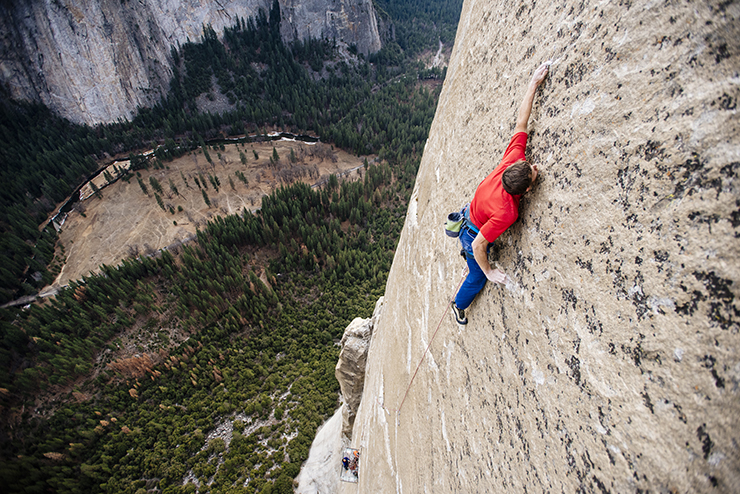 ©Corey Rich / Aurora Photos
Documenting the Dawn Wall really began for me seven years ago when Tommy first started sniffing out this line. Over the years, I've returned with Tommy to the Dawn Wall to do what I love, which is make pictures, support my friends and enjoy living on the side of El Cap while experiencing these wild, protected places to the utmost and having adventures with my friends.
During those 10 days that I spent on the wall with the team, as it looked more and more promising that Kevin and Tommy were going to succeed, documenting the climb became a much larger team effort. Dane Henry, one of my close friends, came out and shot video and time-lapse from various angles around the Valley, logging beautiful hero footage and showing the majesty that is Yosemite National Park. Chris Edmonds and Sean Haverstock were also part of the team. Bligh Gillies, who works full-time at CRP, stepped in as digi tech, photo editor,  assistant and gear manager—and, of course, he shot this amazing quintessential summit image of Tommy and Kevin the moment they made history.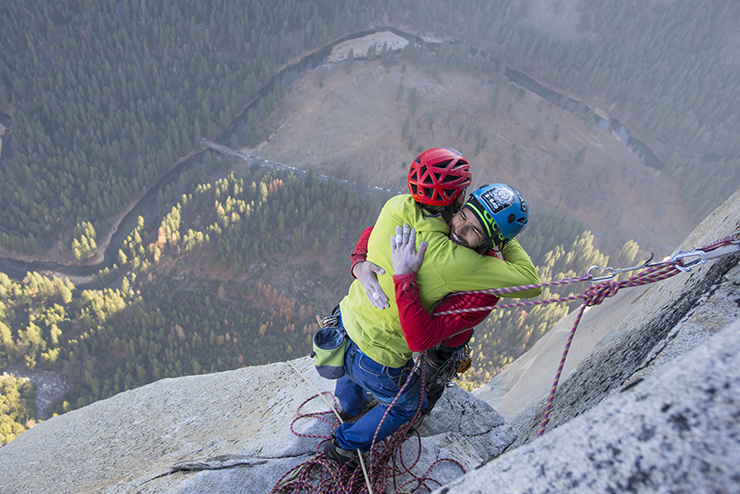 ©Bligh Gillies / Aurora Photos
Just getting to the Valley was a team effort. I arrived home, haggard after 48 hours in transit from Brazil. Then JT Chevalier from our office drove us all night while I slept in the back seat of my truck. Beth Rodden opened her home to us and allowed us to make it a basecamp for all Dawn Wall operations. The excellent team at Aurora Photos led the charge in distributing still images to the media—thanks, Sarah for your hard work!
Thanks to Sadie Quarrier at Nat Geo for her expertise in selecting the imagery that appeared online and on the Nat Geo Instagram feed, and for working with us at all hours of the day and night.
Erik Sloan and James Lucas were integral in running support, bringing loads up and down the wall via thousands of feet of jugging—thanks, guys!
Thanks to the press teams at Patagonia and Adidas Outdoor for managing the flood of press requests—that really allowed us to remain focused on the tasks at hand.
Cheers to Rex Lint for his willingness to edit through the night and accommodate my crazy schedule on the wall. Also thanks to Chris Burkard for sending up Goal Zero batteries.
And a special shout-out to Josh Lowell and Big UP Productions for having the vision to embrace the Dawn Wall as a film project, and for helping it become this incredible multi-media experience. You deserve a lot of credit for capturing what makes climbing so incredible, and showcasing this sport to the world at large.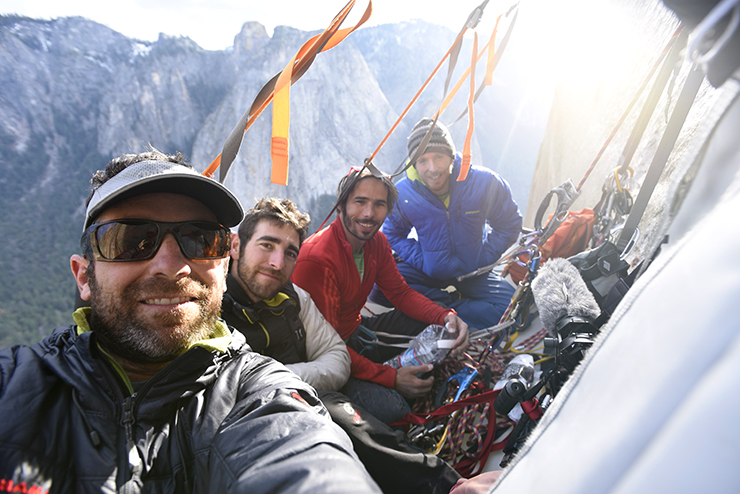 ©Corey Rich / Aurora Photos
The day that Tommy and Kevin reached the top, I couldn't have been happier or prouder to call myself a climber, or a member of the network of creatives that include everyone at Corey Rich Productions, Big Up Productions, Sender Films, Aurora Photos and Novus Select. Again, hats off to everyone for their hard work!
Finally, seven years after beginning this project, Tommy and Kevin achieved their dream. For me, what has been the greatest pleasure is that, throughout this entire journey, I've gotten to watch my friends Tommy and Kevin change for the better. The Dawn Wall brought out the very best in them both, and made them into the guys I've known them to be all along.
This wasn't just about rock climbing. The reason so many people responded to the Dawn Wall is that they saw a story about people doing what they love to do, working hard, and ultimately achieving their dreams.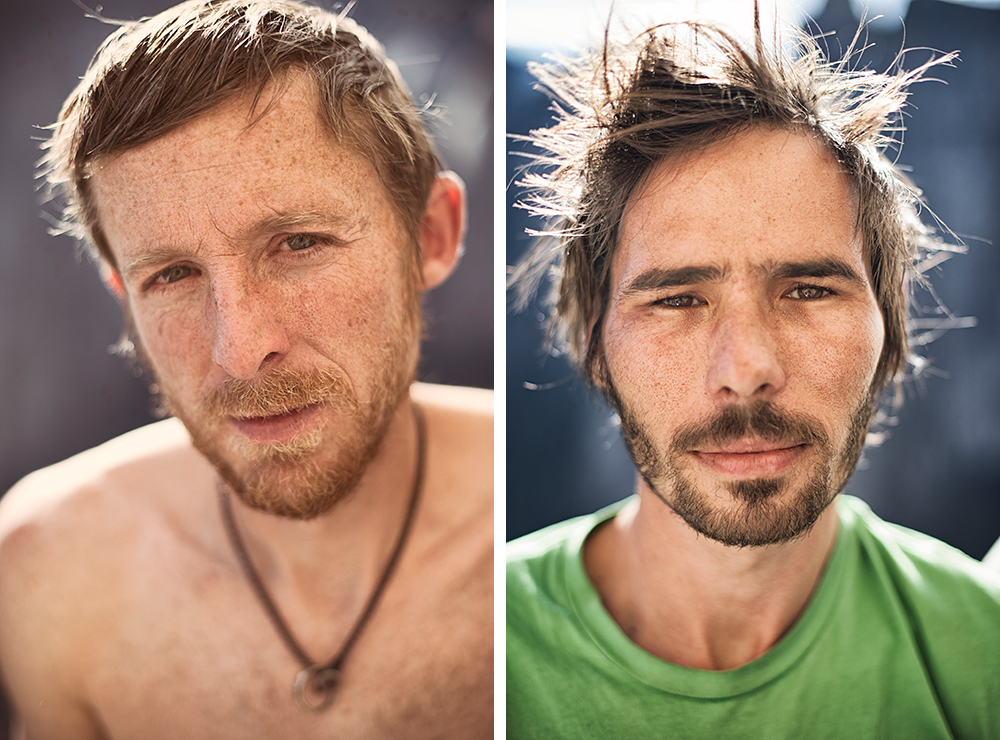 ©Corey Rich / Aurora Photos