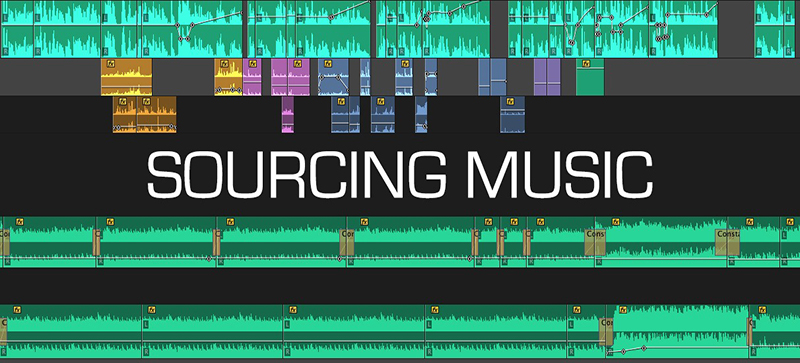 Ask Corey: How Do I Get Music for My Video?
Hey Corey!
I'm getting into editing video, and one thing I'm puzzled about is how to find music. Do I need to license it? Where do I do that?
Very confused,
Adam K.
Hey Adam!
Getting the right music can be one of the toughest aspects of putting together a sweet video. For one, finding the right track, for the right price, is hugely time-consuming! But it can also be one of the most important storytelling tools in your arsenal. Music has the power to totally influence how we perceive the visual story, so it's definitely worth spending the time to find the right music for your edit.
As with all things in life, acquiring music is a matter of Time and Money.
You have a few options. You can either score it yourself. You can pay someone else to score it. Or, you can license it.
If it's for a commercial project, yes, you definitely need to license the music. That means you can't just grab the Rolling Stones' "Satisfaction" and lay it on top of your next Ford commercial unless you're willing to shell out extraordinarily large bucks. Unless you've got cash in the upper five or six figures to spend, you can pretty much forget about licensing the Rolling Stones for your next video. (And that's true for just about any well-known artist.) Somehow, I'm guessing those aren't the budgets you're working with.
No worries, everything is scalable!
On the lowest level, you could open Garage Band and begin composing your own score. The benefits of doing this are, obviously, it's free. It can also be fun and creative. Best of all, you have complete control in terms of getting the exact sound you need.
Downsides are that you may be tone deaf and have no musical abilities whatsoever. Unless you're already familiar with Garage Band, there could be a learning curve. Mostly, if you're anything like me, you'd likely create something that would suck.
One option is to hire a composer, an artist, or a band to score the music for you. This could provide you with something unique—a sound that's tailor made. But it will most likely take longer—which is time that you may not have. The cost for hiring a composer depends on who you work with. It could be anywhere from a few hundred bucks and a cheeseburger dinner that you pay the random percussionist playing the cowbell in the Union Square subway station, to tens of thousands of dollars that you'd pay a very qualified and experienced composer.
If you're looking for a recommendation for a fantastic composer, I can highly recommend Ian MacCleod at Cleod9 Music in New York City. We've worked with Ian on many projects, and he's a great guy who has consistently turned around amazing work within our budget. His company, by the way, can also can help with licensing … Which brings us to our last option:
When you get into licensing music, there are two basic routes. There are rights-managed tracks and there are royalty-free tracks. All can be licensed through a stock-music company.
Rights-managed tracks are songs that are managed by websites like Music Bed and Killer Tracks, which are the two resources we use most often. In the world of rights-managed music, the stock company will set a price for you based on how you intend to use the song. They will look at how the song will be used, where it will be used, and how many times it will be used and then arrive at price for those terms. 
Royalty-free tracks are the cheapest way to go. In this licensing scenario, you'd simply pay a flat fee and then you are free to use the track however you want, including as many times as you wish. Royalty-free music companies such as Audio Jungle or Premium Beat offer a surprising number of quality options at a really low price point. 
Hope this answers the question. There are no shortage of options out there—just the inevitable shortages of time and money. Good luck finding the perfect track, and be prepared to spend a bit of time doing it!