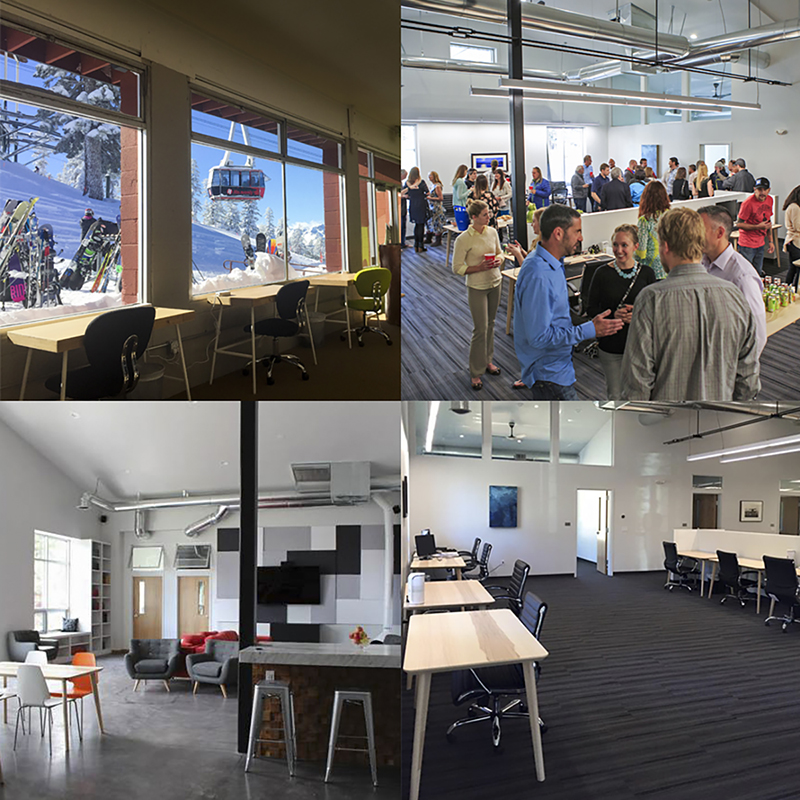 It's kind of ironic that, for a guy who travels around the world around 200 days per year, I would be such an enthusiastic and strong supporter of South Lake Tahoe localism: local companies, local foods, local folks. Actually, the more I travel (and the older I get), the more I realize how special my home here in South Lake Tahoe truly is. It makes me want to do more to give back to my community and help build the kind of place that I want to live, that I want my daughter to grow up in, and the kind of place that we can all be proud of. 
Part of that sentiment is giving a shout out to my fellow South Lakers who are doing really cool stuff, and who are helping to reimagine how South Lake Tahoe can become one of the mountain towns of the future. Today's shout out goes to Jamie and David Orr, and Bernard and Cristi Creegan, co-founders of the Tahoe Mountain Lab, a modern co-working space. 
The concept of co-working spaces is relatively new, but the basic idea is that Tahoe Mountain Lab provides an number of offices/desks that can be rented month to month, or with a day-rate drop-in fee. Today, many workers are freelancers, consultants, and solopreneurs who don't work in traditional offices. To have a nice place to pop open your laptop, and even collaborate with folks from different fields, can be super conducive to doing the best work of your life. The ability to do the best work of your life in an office that is located in one of the outdoor recreation capitols of the world, is icing on the cake.
Jamie grew up in California and spent her summer vacations on Lake Tahoe. She went on to get a  Ph.D in theoretical physics from UC Davis, and her work has spanned everything from renewable energy to biomedical engineering, 3D printing to nanotechnology. She serves on the board of directors of Sustainable Silicon Valley and as co-chair of the Silicon Valley Leadership Group Energy Committee. Clearly, she's a smart lady!
David also grew up in California and has worked in a number of Silicon Valley startups. After having grown tired of the commute and Bay Area traffic, David and Jamie took a big risk by moving to Tahoe, buying the old Tahoe Tribune Building, and completely renovating the 10,000-square-foot space to become a modern, aesthetic co-working space. 
Bernard is a prolific builder in town, and he partnered with the Orrs to make the Mountain Lab a reality. He and Cristi are raising a family here and want to make South Lake Tahoe a wonderful place for businesses and families.
Tahoe Mountain Lab was born, and has since become an incubator for entrepreneurs, visionaries, and those who are enthusiastic about doing great work, and being part of the South Lake Tahoe community. 
Recently, Vail Resorts approached David and Jamie with the opportunity to install a second Tahoe Mountain Lab location on Heavenly Mountain, so that folks could spend a day skiing, but still peel away for an hour or two conference call or take care of business. 
This post is a salute to you, Jamie and David. We couldn't be more excited that you two are part of our community. Here's to making South Lake Tahoe a mountain-town leader!