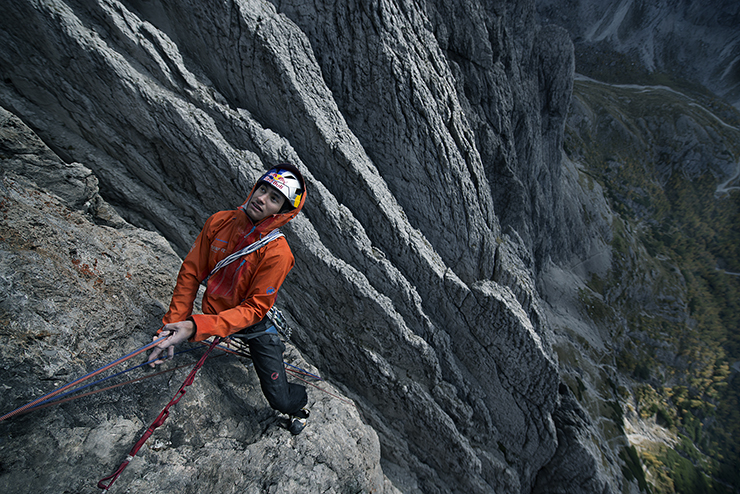 Nikon D800 / 14-24mm f/2.8 lens / ISO 200 / 1/1250th second / f/4.0
The worlds of professional photography and filmmaking, as many of you know, can be cutthroat, if not downright brutal. There's a ton of competition, and every day there seems to be more of it—no doubt thanks in part to the fact that cameras are getting way better and costing way less. With so much talent torrenting into these professions, it can seem impossible to make a name for yourself and attract work.
The response to this reality often elicits two very different responses within the photography / filmmaking communities. Some folks are super secretive with their information. They don't like to share anything—whether that's contract details, rate information, or even something as simple as the technical info for how they created an image.
At the other end of the spectrum, however, you'll find photographers / filmmakers who believe that it's all fair game because, ultimately, talented, good people win. Within this approach, very little is proprietary. As photographers and filmmakers, our relationships to each other are forged through mutual respect and admiration for each others' work—and work ethics. We're friends and we like each other. Most important, we help each other out.
This latter world is the one I've always chosen to be in—and believe in.
Early on in my career, I realized that one of my biggest weaknesses as a professional photographer was that there was only one of me! After committing to one job, were another one to come along, I couldn't just back out of that initial commitment—no matter how much cooler or more appealing that second opportunity seemed.
Every freelancer knows how painful it is to turn down work because you're already booked. It goes against all your instincts. And the tricky challenge is what comes next:
The client, after being bummed that you can't do the job, always asks, "Well, who can you recommend?"
This is a very loaded and very important question. Think about it. If your back hurts, and your friend recommends seeing his favorite chiropractor, and you take him on his word that this chiropractor is great, you will be doubly bummed if this guy ends up sucking—say, for example, because he shows up late, charges you too much money, and ultimately leaves you immobilized with a pain in your neck. You will be pissed off at the chiropractor, of course. But you might also be pissed off at your friend for his lame recommendation. And you definitely won't be seeking his advice again anytime soon.
The same is true in the creative world. If an art director asks for your recommendation because you can't do a job, your suggestion better not be a guy who shows up late, does a crappy job and is, in general, a pain in the neck to work with.
Almost a decade ago I became a co-owner of Aurora Photos, a stock photography agency, with Jose Azel. Right when I joined Jose at Aurora, we both seemed to be fielding a lot of phone calls from clients, photo editors and art/creative directors who were asking for our recommendations for photographers. These clients had a problem, and they needed a creative solution—stat. Quickly, Jose and I realized that there was a viable business here.
We created a sub-brand of Aurora Photos initially called Aurora Novus—novus meaning "new." Ultimately, we separated the two companies and our assignment/production company, Novus Select, was born.
Novus Select really was founded with the goal of helping my fellow photographers / filmmakers out, as well as being a resource that can answer this important, loaded question, "Well, who can you recommend for this job?"
In the past, I've written a lot about my work as a photographer and filmmaker, but I haven't discussed much the third hat I wear: as partner and vice president of Novus Select. On any given week, Novus Select has about a dozen still photo or video shoots going on around the world. The volume is such that we have two offices: in New York City and Portland, Maine. A lot of the day-to-day operations at  Novus Select involve planning productions, managing logistics, sourcing crew, booking travel, casting talent, contract negotiations, billing, archiving, delivering content, and more.
Where I come in is carefully selecting photographers / filmmakers to recommend for assignments. To do this, I consider it to be my job to keep tabs on my colleagues in the still and motion world. I pay attention to what everyone is doing. I'm always checking out everyone's latest work. (Fortunately, it's never been easier thanks to social media.) This is one of the most fun parts of my day. It's inspiring to see what everyone is doing, and it always pushes me to think differently and try even harder in my own creative work.
Whenever I make a recommendation, I rely on three simple criteria. First and most obvious: the photographer or filmmaker needs to be talented. They need to have a ton of amazing, diverse pictures, or a compelling video reel that shows a unique vision and an understanding of storytelling.
Second, I need to know that they are both willing and able to work really damn hard.
And last but not least: the photographer/filmmaker needs to be a good guy or girl—not an asshole. He or she needs to be someone who I would genuinely want to spend time around. Because if I am willing to spend time around them, then both the talent and clients will also enjoy their company, too.
Over the years, I've had to turn down dozens of really cool opportunities due to pre-existing commitments.
One time I passed up on a trip to Kalymnos—a Greek island with world-class rock climbing and cheap, delicious seafood (in another word: paradise)—to shoot a profile of my friend and world-famous rock climber Alex Honnold for United Airlines' Hemisphere magazine. Through Novus Select, we recommended one of my favorite climbing photographers, Keith Ladzinski: a guy who is really talented, works really hard, and is always fun to be around. And of course, he killed it and blew the editors at Hemisphere away.
This past winter, I had to pass on an assignment for Red Bull to go to the deserts surrounding Epecuén, Argentina, to shoot legendary biker Danny MacAskill. So we reached out to David Burnett, a legend in the photojournalism world. And of course, he delivered stunning, dynamic, "outside-the-box" images that blew the team at Red Bull away (check it out on Red Bull's site).
One time I was asked to shoot the "Heavenly Angels" ski calendar, featuring tasteful pictures of scantily-clad ski bunnies. I probably tried every trick I knew to get out of my pre-existing commitment for that one. Alas, I handed over that assignment to Jay Clendenin, a famous newspaper photographer and good buddy. (Jay, if you're reading this, you still owe me big for this one!)
I've recommended Stefen Chow for a multimedia shoot in multiple countries in Asia for a global logistics company. Gabe Rogel was an obvious choice to shoot a Men's Journal adventure piece on hiking and pack-rafting in wild Alaska. Trevor Clark was recommended for a canoe and backpacking adventure in the Great Lakes region for the Boy Scouts of America. And I recommended John Lee for a mountain-village lifestyle shoot in Tahoe for Vail Resorts. And the list goes on. I begrudgingly handed off all these great opportunities because I was busy, but all of these individuals aren't just photography studs who I knew would deliver fantastic results, but they're great friends and great people who I know would do the same for me.
But one of the biggest opportunities I've ever had to gracefully bow out of due to other commitments was when Red Bull asked me to be the on-the-wall director of photography and shoot David Lama free climbing Cerro Torre. It was a major production (three years in the making, with big dollars backing it), and it obviously would've been great for me on many levels. However, I couldn't justify the two-month commitment of being down in Patagonia. Novus Select came to a solution in which I'd go for two weeks to shoot the stills of David. And Lincoln Else would auger in for the duration of the season and shoot the motion footage on the wall. Of course, Lincoln killed it, and "Cerro Torre: A Snowball's Chance in Hell" received rave reviews.
Handing off projects to your colleagues can sometimes be painful or feel like you are missing out. But my experience has never been one of losing—in fact, I feel like I've only gained, both personally and professionally.
First, there's the reality that when you make a great recommendation to a client or editor, you will be held in greater esteem, which inevitably leads to other opportunities down the road. In other words, you're not going to lose a client by recommending another colleague for a job.
This dynamic also rings true with the talent. Just because Alex Honnold shoots with Keith Ladzinski, or Lincoln Else shoots with David Lama, doesn't mean that Alex and I, or David and I, won't continue shooting together again in the future. When you pass respectfully and you refer that client or athlete to another great option, a door doesn't close. In fact another one usually opens.
In 2012, for example, David and I went to Pakistan to climb Trango Tower together. During that trip, our friendship and trust in each other grew even stronger. All of this led to yet another opportunity with Red Bull for me to travel to David's home in Austria and shoot him climbing in the craggy mountains outside of his home in Innsbruck. Today's featured "Story Behind the Image" picture reveals a portrait of David Lama being fully comfortable—not just in the extreme mountains of his home but also, I would argue, in front of my lens.
There are a dozen European photographers who live within three hours of David who could have made this picture. But I was give the chance—not because I'm the only guy in the world who can take this picture, but because Red Bull has grown to trust me to deliver interesting images (or at least recommend someone else who can).
That trust factor applies not just between the creative and the client, but also between the creative and the talent / athlete. This picture is also a reflection of the fact that David is gifted, works hard and is a good guy who likes to have fun—because if he wasn't, I wouldn't be working with him.
Likewise I suspect that's reason I got to take this picture (and not one of the dozen other European photographers) is because both David and Red Bull see those same qualities in me.
The professional photography/filmmaking world is cutthroat, for sure. But underlying that facade of fierce competition is a collaborative network of creatives and athletes who have built up the trust in each other over the years through consistent track records, dedication and experience. The Network works because we help each others' careers and share opportunities. When I look back at Novus Select and the expansive body of work that we've been a part of over the years, what I find so fulfilling is to see just how many still and motion careers have grown and matured through the evolution of the Novus Select family. For me to play some small, influential part in the growth of other photographers' and filmmakers' careers truly makes all those missed opportunities worth it.