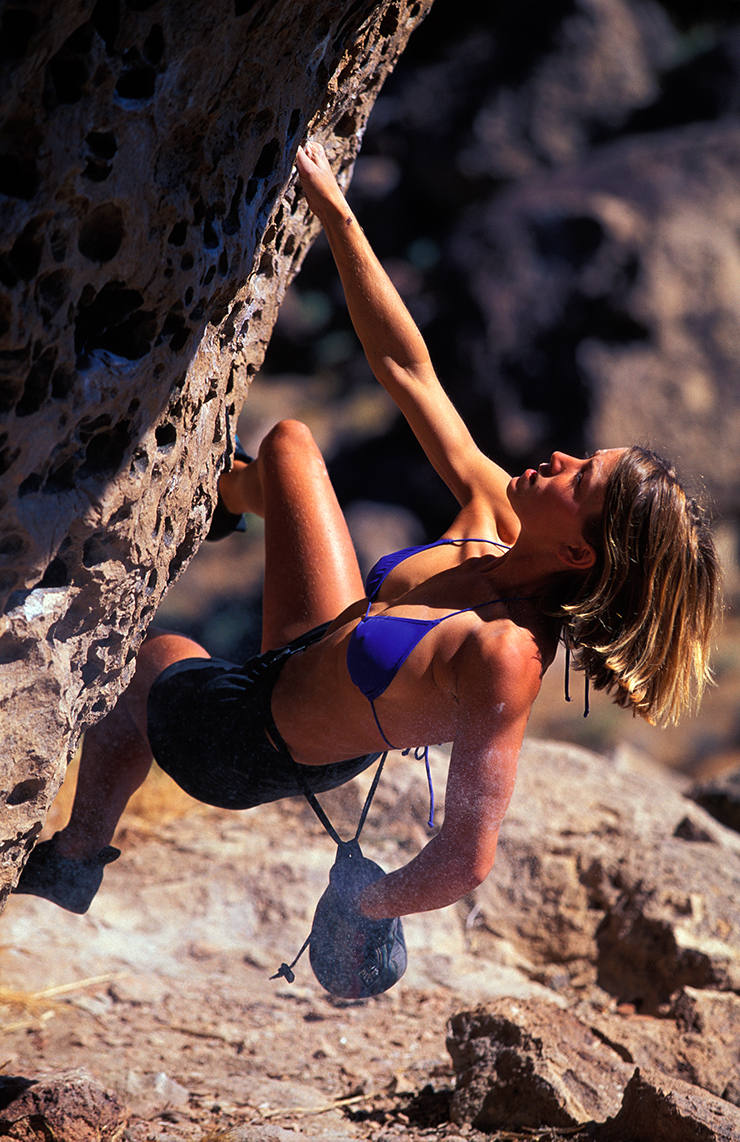 Fuji Velvia 50 ISO / 1/500th second / 70-200mm f/2.8 lens
When I was in college, I was much more interested in traveling to the next climbing area than I was in going to class. I wanted to climb, and live the dirtbag lifestyle immortalized by writers like John Long and Jeff Jackson. I longed to take climbing pictures like Greg Epperson, who perfected the art of capturing a climber amid a dramatic landscape, and Jim Thornburg, who seemed to have the ability to make his photographed climbs look both exciting and gorgeous. These were the chiefs of the climbing tribe and they were my inspirations. I wanted nothing more than to join them for the powwow. Like any 20 year old, I wanted to find my place in the world, and had a sense that if I followed my heart to the cliffs, and brought my camera too, then it would all somehow work out.
During my travels driving around the West in my beat-up Honda Civic filled with climbing gear and bricks of Fuji Velvia film, I met all kinds of fascinating characters. Most of them were dirtbags scrounging around the perimeters of society, seeking freedom from rules and norms and consumerism, and chasing the ideals that had defined climbing counter-culture since the 1970s.
But this was the mid 1990s. The sport of climbing—and perhaps all adventure sports as well—was growing. And changing. The biggest tides of change were still swelling in the distance, but climbers back then seemed to be aware that those waves were coming. It created a zeitgeist among climbers that was one of nostalgia and even bitterness for how it was "back in the day" when crags weren't crowded and climbers were bold.
But change is never all bad—in fact, it's usually mostly good. For example, as the sport grew, suddenly everyone had more options for climbing partners. Climbing magazines were exploding, too, getting readers stoked with ideas for your next road trip. Gear was getting better and safer. Gyms were popping up in major cities, creating the training centers that would contribute to the huge progression in the sport. Climbing, it seemed, may as well have been the new national pastime.
Yet for as much as climbing was growing, it was still a sport mostly filled with disgruntled, single dudes. The guy to girl ratio was at least 10 to 1—it certainly felt that way.
But, again, because the sport was changing you began to see things at climbing areas that you would have never seen 20 years earlier, whether that was climbers using rope bags and clipping bolts, or whether it was a strikingly beautiful and athletic women who could pass for super models walking through Yosemite's Camp 4 carrying racks of cams.
Rikki Ishoy was that woman: a sight that probably seemed too surreal to be true to the climbers from 1970s and 1980s. Rikki was a single Danish rock climber on a break from law school, and traveling the U.S. to climb. She was beautiful, intelligent and really good at climbing.
Did I mention that she was really beautiful?
I don't remember exactly how we connected, but she probably found me to be non-threatening as I was one of those rare climber-dudes back then who actually had a girlfriend, and therefore I was probably the only guy in Yosemite who wasn't tirelessly hitting on her. For whatever reason, Rikki and I ended up traveling to climb together a lot. Over years I watched her chew through and spit out dozens of hopeful climbers and friends. Traveling to climbing areas with Rikki was a great for me because I had a super model to photograph as well as woman who would go on to become a great friend. Perhaps the best perk of all was that finding people to belay Rikki while I took photos of her climbing was not hard at all.
During one of our many trips, Rikki and I went to The Happy Boulders near Bishop, California to go bouldering. As soon as we showed up, there were a dozen guys carrying pads, following us around and wanting to know if Rikki needed a spot. It was really hot that time of year. All the guys had their shirts off, and were flexing their muscles, trying to impress Rikki.
"You know, it's not fair the boys to climb without their shirts," Rikki observed, and then proceeded to strip down to her bikini and climb in that for the rest of the day. She was European after all. I snapped this photo of Rikki that afternoon. Being such a hardcore photo dork, I remember thinking it was a decent picture for being taken in a situation with tough light—not even really thinking about the fact that this was a picture of a beautiful woman climbing in a bikini, which back then was a sight about as rare a black rhino bathing in the Merced River.
A few months later, I divided up all my rolls of film and submitted them two places. I sent most of my photos, mostly lifestyle shots, including the "shot that launched my career," as I wrote about recently, in a large batch to Jenifer Ridgeway at Patagonia. Then, I took six months worth of photos and distilled these shots down to about 20 of my best climbing action images. I sent those slides to Jeff Achey, then the photo editor at Climbing Magazine. It was my first-ever submission to a climbing publication.
A few days later, I got a call from Jeff. His tone of voice was rather inscrutable, even quite gruff, over the phone. "Hey, kid, we like one of the images in your submission. It's pretty good, I guess. We'd like to consider it for the magazine."
He asked me for the caption to the photo of Rikki Ishoy bouldering in a bikini at The Happy Boulders, and then I didn't hear back from him. About a month later, I opened my dorm mailbox, and found the new issue of Climbing Magazine with this image of Rikki Ishoy smack on the cover. My first cover! Cool!
A lot of people have remarked about how lucky I was to have landed a cover on my first submission. Perhaps there's some truth to that. Maybe the magazine just happened to be hurting for a good cover shot at the time I submitted my shots. Maybe it had nothing to do with my photo skills at all.
But on the other hand, I have to say that luck is maybe only one or two percent of the equation—and either way, it's never something that can be relied on. I'd spent years pursuing photojournalism, working for newspapers and studying photography in school. I'd spent the last six months working my ass off to travel and shoot pictures of rock climbing around the U.S.—all on my own dime, too. I forsook all the parties and fun that my college comrades were having to go out to climbing areas with a rope, a harness and my camera and shoot the sport that I loved. To me, seeing my shot of Rikki Ishoy on the cover wasn't luck. I'd rolled up my sleeves and had dug and dug and dug and finally hit pay dirt. And for this reason, this image is perhaps one of the most important of shots of my career.
I recently wrote "The Story Behind the Image that Launched My Career," but really there were two images, published almost simultaneously, that I consider to be responsible for launching my career. This is the other.
The best part of this story is what happened next. I admit that I didn't realize at the time what the result of this photo would be. All I saw was a future paycheck that would pay for my next climbing road trip and a few rolls of film.
But this cover—the first time a bikini-clad woman appeared on the cover of a climbing magazine—resulted in a huge response from the climbing community. The editors' mailboxes were flooded with a glut of hand-written letters either supporting the decision, or (most) outraged by the choice.
It's hard to really understand the context of this picture appearing on a core publication at this juncture of time. By today's standards, there's nothing even remotely risqué about this photograph. But back then it was a big deal. If I had to guess a reason why I'd say it was because this cover became the unlikely outlet of some of the emotions lying latent in the climbing world at the time: over the sport's growth and transition from fringe to mainstream.
Yet the proof about which side of the argument would win was found in the resulting numbers: This cover actually became the best-selling issue of Climbing Magazine ever. I think it still holds that title to this day. As much as I'd like to believe that my photography skills were the reason behind the success, I think that it's obvious that the star to this success is Rikki. I was just the assistant.
Climbing is a sport that has no outlet on TV. Even to see the sport live in person, still requires a set of binoculars for the average layperson, and even that experience is insufficiently comprehensible compared to the one of actually going climbing—of seeing and feeling what it's like to be up on a cliff, exposed to gravity in a way only climbers understand. Therefore, consider for a moment how important photography has been to sharing what climbing is all about with a larger audience, inspiring them and even drawing them into that world for the first time. Along with writing from the greats like Long and Jackson, climbing pictures have been integral to the sport's growth. And the magazines that have printed both.
Media also made the professional climbers that got sponsored. In a weird way, Rikki almost became a professional climber after this cover ran—along with the dozens of other photos of her that I took. She was a good athlete, but perhaps not the best in the world. But she was smart. She was good looking. And she was willing to work with me as a model to create the media that was necessary to filling the pages of editorial and advertising in the climbing magazines. She was one of those early examples of a climber who, through her presence, helped the sport grow to a point that, today, the industry is able to support hundreds of professional climbers and climbing photographers.
For me, one of the takeaways has to do with what I've observed about the prolific nature of opportunity in professional photography. Opportunity is the single door you walk through that leads to a hundred more. After this image was published, Jeff Achey told me to buy a fax machine because I was going to be one of the few photographers worthy of receiving the magazine's "Need's List," the list of images the magazine was looking for to illustrate the next issue's upcoming content.
I was probably the only kid at San Jose State with a fax machine. And every month when that shot list came in, I saw it very differently than probably all the other photographers who got the Need's List. I saw that list as my next month's worth of work. I saw that list as the opportunity to hit the road, and go out and fill up my archive with the best pictures I could take.
And that's exactly what I'd do. I'd load up my Civic, call up Rikki Ishoy and we'd hit the road. And we'd use the Need's List as an excuse to see the climbing world and live the climbing lifestyle and work to capture every single image that Climbing Magazine needed that month.
Eventually, Duane Raleigh, then the publisher of Climbing Magazine, called me up because he was curious about how I always seemed to have all the right shots on the Need's List. And when I explained to him what I was actually doing, he laughed.
"Kid, that's crazy, but keep it going! You're saving me a ton of money!"
And over the next year, I went from this kid who had never been published in a climbing magazine to a guy who was either on the cover or had a feature in every issue—all shot on spec, on my own dime.
And from all that, the doors of opportunity continued to open.
This picture of Rikki Ishoy was my first of dozens of magazine covers. But without a doubt, it remains my favorite.