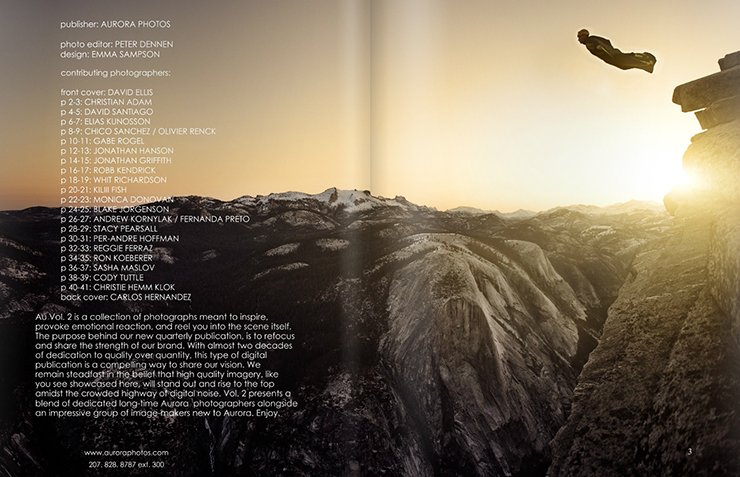 AU, the Aurora Photos lookbook, isn't just a way to share the gorgeous photography of Aurora contributors with potential clients, but it's also a celebration of creativity within the Aurora family.
Aurora Photos recently released AU vol. 2, and this one is particularly meaningful to me. First, our former intern Christian Adam landed this spread as the table of contents. He was working in our office in South Lake Tahoe when he went out to Yosemite to capture this image of some BASE jumpers jumping off of Half Dome at sunrise.
I vividly remember that day, too. On a whim, Christian hopped in the car one afternoon and drove out to Yosemite Valley. About 24 hours later, he stumbled back into the office, looking haggard but grinning ear to ear. He said that he had just captured something special, and I could tell by the expression on his face.
It's awesome for me to see Christian's photograph as the opening spread for AU. When he was here, Christian proved to all of us that he has that rare type of courage needed to follow his heart and dreams. And, wow, look at what he came away with. This image is probably the most impressive Yosemite BASE jumping photo that I've seen. Great job, Christian. I am happy to hear that you're kicking ass and taking names.
The second reason this edition of AU is meaningful for me is actually bittersweet. This issue coincides with the departure of one of our longest employees, Peter Dennen, the photo editor for AU and the creative director at Aurora Photos for the past 10 years. Indeed, this is an end of an era. Peter was the first hire we made when I became a partner in the company, and over the years Peter has become a dear friend and one of the company's most valuable people. Peter really helped build and make Aurora Photos what it is today.
Peter's love for fine photography and working with great photographers will surely be the reason his new venture, PedroAndJackie.com, will be a great success. As Peter leaves, he has provided us with this incredible gift: AU vol. 2. This is his layout, his edit. It's proof of his keen sense for photography, his passion and his creativity.
We all wish you the best of luck, Peter. Thank you for all the work you've done over the years. I know we'll have the opportunity to work together many more times in the future. Thank you for everything, and here's to your success.