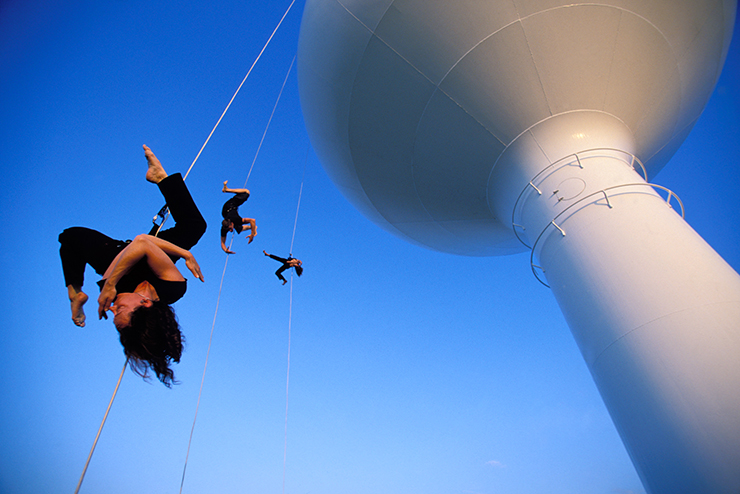 Fuji Velvia / 17-35mm lens / ISO 50 /  f/5.6 / 1/250th

They say that rock climbing is like performing a vertical dance. Starting back in the 1990s and continuing up to today, Project Bandaloop has taken that interpretation to its literal extreme by combining modern dance routines with extreme vertical environments. These vertical or aerial dances, as they are called, have performed everywhere from major city landmarks to the walls of Yosemite.
Back in the 1990s, I remember some of the more seasoned, jaded rock climbers scoffing at Project Bandaloop. After all, in their eyes rock climbing was this very hardcore masculine thing.
But I saw it differently. I was actually fascinated by Project Bandaloop back then. They were climbers, like me, but what they were doing was unique and extremely visual. I think it's important to take a broader interest in the world around you, beyond just your own niche.
In college I spent a bunch of what little money I had shooting Project Bandaloop. I once flew to Vegas to shoot them performing in Red Rocks. I made several trips to Yosemite to work with them on the side of El Cap. I even made a trip to San Francisco when they were performing on one of the city's buildings.
Over time, I established a relationship with these people. I got to know them, and they got to know me. They saw that I could make interesting photos. They saw that I was safe and literally knew the ropes. And I think they even liked having me around.
Ultimately all that investment paid off when I got a phone call offering what was the biggest, coolest editorial assignment of my career at that point.
I was in my dorm room when the photo editor at the New York Times Sunday Magazine called. She explained they were doing a story on Project Bandaloop. Clearly my friends at Project Bandaloop had thrown me a bone by tossing my name into the hopper for shooting the story. The photo editor asked if I could photograph their next performance, which would be on an industrial water tower in Salina, Kansas.
This was a huge deal at the time. The Times Magazine is a very well respected publication for both writers and photographers. Essentially, I would have paid them to give me this assignment!
Though super excited, I played it cool while discussing details with the photo editor. We went over the logistics of making interesting, photojournalistic pictures while hanging on a 10mm rope 100 feet off the ground. She were very concerned about my safety and the risk I'd be taking. The whole idea appeared to be utterly death-defying to her.
To climbers, jugging up or rappelling down a free-hanging rope is, quite frankly, no big deal. With a few basic precautions and an elementary understanding of climbing equipment, any idiot can get up or down a rope safely.
But this New York City photo editor didn't know that. And I sort of played into her fears, making the whole thing seem a bit riskier than I knew it would be.
For some reason—and I don't know where this came from, to be honest—I just blurted, "One more thing. My day rate goes up for each day I am on a rope."
It was a super cocky move for a college kid in a dorm room to say to the photo editor of the New York Times Sunday Magazine. But I figured what the hell and just went for it anyway.
Sure enough, she didn't even flinch and instantly doubled my day rate.
I hung up the phone with a smirk. Booyah.
It took a whole 15 minutes for me to realize the ramifications of my presumptuous little request. I was going to be paid more than some of the greatest photojournalists for the Times Magazine were making. The implications of this special treatment began sinking in. Suddenly I felt an enormous amount of pressure to deliver nothing short of greatness. Yikes.
Within a couple weeks, I was boarding a plane, with an itinerary from California to Denver, then a quick 30-minute flight to Salina, Kansas, on a tiny 15-person prop plane. The flight to Salina was scheduled to depart  at 10 a.m., but due to thunderstorms hovering over Denver, our flight got delayed to 11 a.m. … then 12 p.m. … then 2. It actually wasn't until 5 p.m. that I boarded a sardine-sized plane with a dozen other passengers. The plane was so small (and this was so long ago) that there wasn't even a door to the cockpit. And everyone on the flight knew each other. Even the pilot and co-pilot greeted each and every passenger (except me) by their first name.
Clearly, I was the odd-man out.
Once in the air, the plane started jarring turbulently. I figured that this was normal for planes of this size, and just tried to calm my nerves by closing my eyes and reminding myself that this would all be over in 30 minutes.
The pilot got on the loudspeaker and said the storms have shifted, and things might get bumpy.
"Keep your seat belts buckled, this is going to get rough!"" he commanded.
It got more and more turbulent. Pretty soon, shit was flying out of the over head bins and other passengers were puking into the vomit bags in their seats. I looked ahead and saw the pilots just battling and fighting through the storm, not looking particularly confident. Thunder and lightning was going off all around us in cataclysmic flashes of brilliant white light. It felt like we were at war.
There was a moment during that whole experience in which you could tell that no one on our flight thought we were going to make it out alive. Not the pilots. Not the pukers. And certainly not me.
Thankfully we landed on the dark, wet runway after one of the most frightening and longest hours of my life. The one dude out on the runway, directing the plane in, was actually clapping for us. We all burst out of our seats and started hugging each other. Then the majority of the passengers, the pilots, and myself went out for a beer.
By the next day the storm had passed, the skies were brilliant blue, and I was up on the rope shooting Project Bandaloop. I chuckled to myself at the irony of the situation: how I'd never expected that just getting to Kansas would be the most dangerous part of the whole situation. Perhaps that storm last night was just a tiny bit of karmic retribution for my cockiness earlier with my day rate.
But now I hung 100 feet above the concrete on a thin little rope, my camera pressed to my eye. I felt overwhelmingly lucky to have this opportunity, not to mention lucky just to be alive. I forgot all about the day rate, and just fell into a state of unattached concentration. The kind of state you find yourself in anytime you do something you enjoy, for no ulterior reason other than that it's what you love.
I think the almost Zen-like state of detachment, concentration and bliss I experienced actually helped me make some of the best pictures I'd ever taken. The real affirmation came later when I delivered my rolls of film to the Times' editors and they said they were "surprised" by my pictures, which was the ultimate compliment. It led to more assignments with the Times Magazine. And one of the photos from this shoot (not this one) won an esteemed photojournalism POY award.
Climbers say that it's not about the summit, but how you get there that matters. It's an aphorism that comes in many forms, and it certainly holds much truth and somehow seems to apply to this story. But what I took from this whole experience is that climbing is nowhere near as dangerous, risky or scary as flying from Denver to Salina, Kansas.