Hi Corey. You are part of the reason that I went with Nikon in 2012 when I did my HD camera upgrade. Thanks to "WHY" and "HOW of WHY," I was blown away.

I have never looked back on that decision to be shooting my video with DSLR and, although it's not always the perfect tool, or the tool I end up shooting with, my main tool is now the Nikon D4.

I see in your Gear List that you also have the Nikon 1 V2. Do you use this as another video source (C or D camera?) or are you using it mainly for photography? I almost purchased one when I bought my D4 to have as a cost-effective B camera, then changed my mind and purchased a Nikkor 50mm f/1.2 manual prime lens instead. But I could really use another camera for a B-cam and was looking for your honest opinion on whether this might be an adequate option to compliment my D4? Of course, if more resources were available, I would certainly be considering the D800 or D610 now.

Do you use the Nikon 1 V2 as a video source and, if so, how well does the footage mesh when placed in a timeline alongside D4 footage? Having just returned from a shoot in Boliva, traveling light was critical ,and it would have been nice to have had a second camera on that trip.

Thanks Corey. You inspire me to be better, to learn and to grow in my production quality. —Rene D., via Facebook.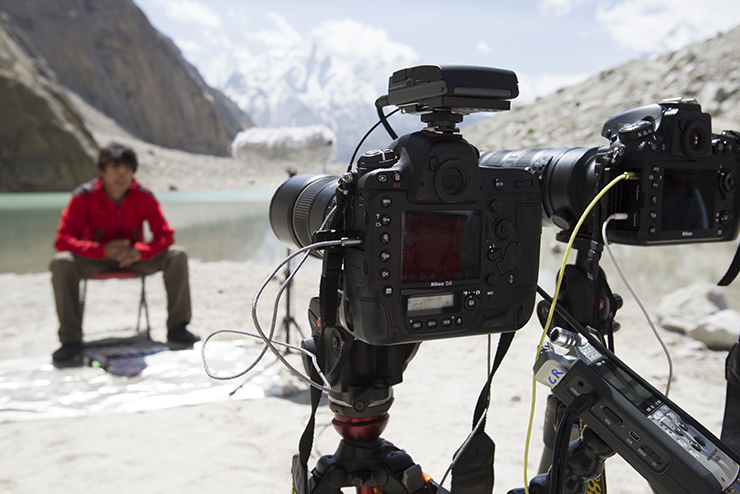 Rene, thank you so much for the complimentary words. Hearing people say they appreciate the content we're creating, and that inspires them in their own creative lives, honestly means the world. That's a big part of why I do what I do.
So, I'll give you the simple, honest answer for your B-cam dilemma: Go with the Nikon D610. I know that's probably not what your checking account really wanted to hear, but if your primary camera is a D4, you really should be shooting a full-frame HD-SLR alongside it.
That said, you could get away with the Nikon D7100, which is about $800 cheaper than the D610. It has a lot of functionality, and quite frankly, sometimes having a smaller sensor can be beneficial on a B-cam in that you have more magnification with your lenses when conducting a two-camera interview set-up.
I've been using the Nikon 1 mirror-less camera system as an amazing third or C-cam. Very rarely would I use it for B-cam. Here are some situations I'll use a C camera like the Nikon 1: when I just need a fast and light camera to take with me on the go. When I need to mount a small, light camera in a situation where a full DSLR won't fit/work such as on an RC helicopter. I've also used my Nikon 1 J3 onto boats, using available waterproof housing.
Now that Nikon has released the AW-1—a mirror-less Full HD-enabled and waterproof camera—that will become my go to C-cam. Plus, the AW-1 is compatible with all Nikon 1 lenses, or any Nikkor lenses so long as you have the adapter.