Hi Corey,

How are you? I am sending you this mail from Spain-I hope you can excuse my English. I just want to know what gear do you bring climbing? I have all my climbing stuff plus all my photo gear. For lenses I have a 16-35 f/2.8, a 24-70 f/2.8, and a 70-200 f/2.8. Do you bring a flash? Thank you very much!

-Carlos Malles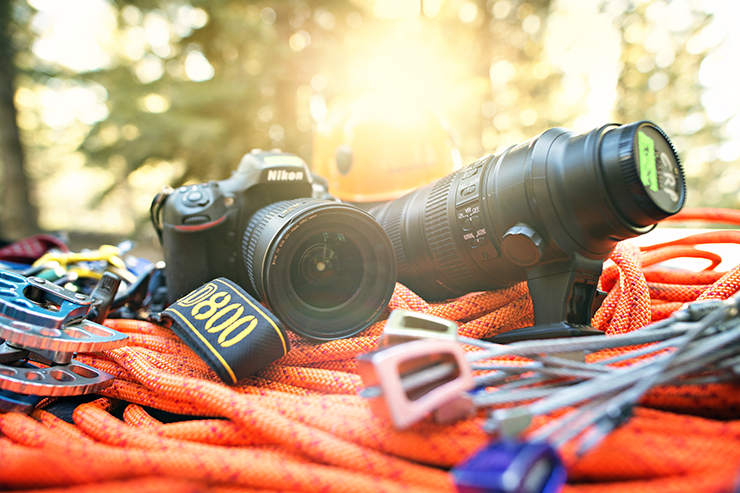 Thanks for the question, Carlos! The answer to this question is something that I've had to learn the hard way, over years and years of suffering and carrying too much gear to the crags and ultimately missing photo opportunities because I was too busy being a porter shlepping photo equipment and not enough time being being a photographer.
The number-one philosophy here is: Less is more. And the answer is really simple: One camera body. Two lenses. That's it.
My ideal set up is a Nikon D800 and a Nikon 16-35mm f/4 lens, and a Nikon 70-200mm f/2.8 lens. If the approach or the climb itself is really long, and I need to go really light, then I'll swap out the 70-200mm f/2.8 lens and go with the Nikon 70-200mm f/4 lens, which is half the weight (1.87 pounds instead of 3.39 pounds).
Unless you know you need that 24-70mm lens, leave it at home.
Planning ahead is key. Research the area you want to shoot and select lenses and equipment carefully. You might need some special piece of glass such as a 300mm f/2.8 , or a Speedlight to light up a situation you know will be dark. But try your best to stick to the philosophy: Less is more.
It seems very counter-intuitive that by leaving gear behind you'll actually end up making better pictures, but it's true. That's how it works. When you're not spending your time shlepping gear or constantly toggling between lenses, you'll end up having more fun, have an easier time keeping up with the athletes, and be able to focus more on creativity and getting the shot!