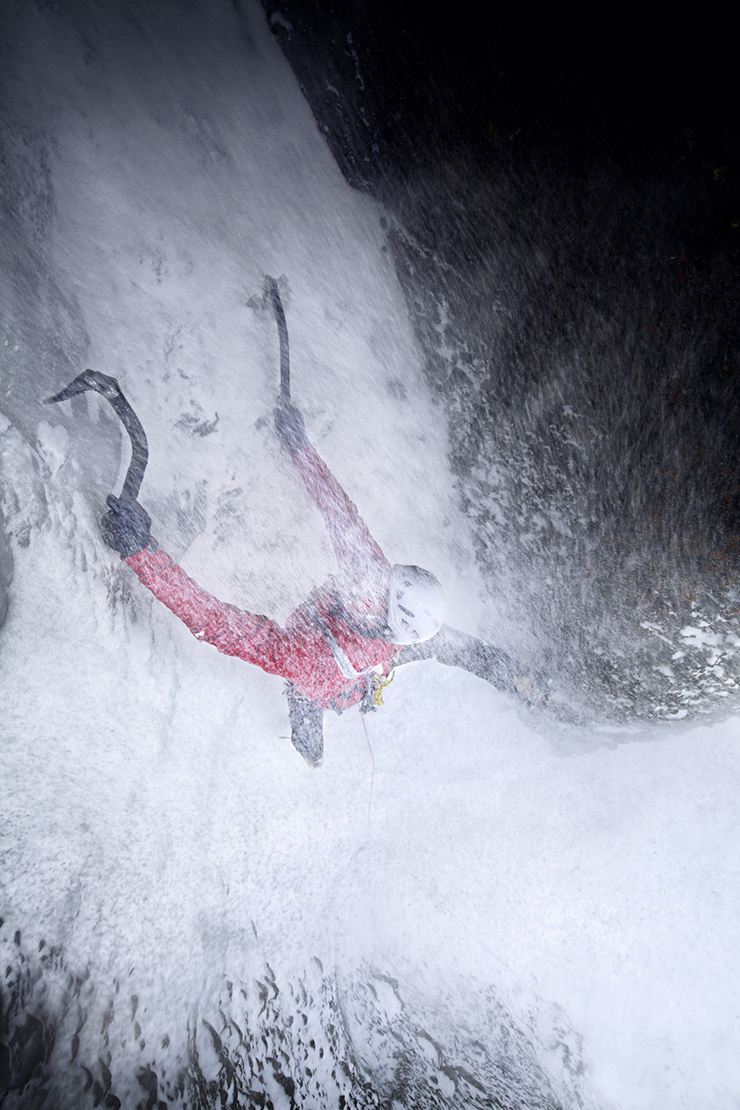 Nikon D700 / Nikkor 17-35mm lens / ISO 100 / f/2.8 / 1/125th second
Authenticity is one of those words that gets tossed around in advertising, marketing and PR circles. But authenticity isn't one of those things you can just say three times and make it true. Authenticity is like Respect: It's something you have to earn.
Authenticity begins when you work with sincere people who care about what they do and have a passion for both work and play. From that comes the next most important ingredient in earning authenticity: creating lasting, genuine friendships and getting to work with those people every day.
I am the co-owner of an assignment and video-production agency called Novus Select. Novus has the contract to shoot the still content for Kirkwood Mountain Resort in South Lake Tahoe. Years ago, a guy named Allon Cohne came to Kirkwood as the mountain's new marketing director. Sure enough, one of his first orders of business was to meet me and discuss our work.
As the new guy on the block, Allon arrived in my office and looked at me skeptically. We sat down. Allon asked me to explain the rationale behind our budget, and also to explain Novus Select's unconventional approach to shooting Kirkwood.
Typically a mountain will hire one photographer to capture everything. Novus Select's approach to collecting the assets was to employ the talents of a group or collective of top photographs that our agency had carefully chosen. I explained to Allon why this approach was so valuable and how it leads to such great results.
By the end of the conversation, it was clear to Allon that I was a sincere, professional guy looking out for Kirkwood's best interests, that I loved photography and that I loved helping out other photographers. It was also clear that Allon and I would become really good friends.
Sure enough, that season Novus Select's photographers produced arguably the best set of images Kirkwood had ever seen. Our guys flew in from around the country and worked locally to create an exciting and diverse set of visual assets. I even contributed a few good pictures myself.
Allon and I worked together over the next few years as he directed all of Kirkwood's marketing campaigns. We shared a similar sense of humor and frequently got together for barbecues in the summer, and spent winters making turns together in Kirkwood's legendary powder.
Eventually, Allon left Kirkwood and landed as the global marketing director for Polartec, one of the outdoor industries most innovative and leading fabric companies. Once there, Allon took our now proven approach—in which you use a team of photographers to achieve goals—and brought this unique model developed by Novus Select to Polartec.
One of our first projects together involved building an asset library to support Polartec's flagship water-resistant soft-shell fabric: Power Shield Pro. On behalf of Novus Select, I spearheaded the effort and Allon and I brainstormed a dream shot list of both still and motion content. Then we buzzed our go-to select of Novus storytellers, and handed out assignments. After everyone cherry picked the best assignments on the shot list, I was left with the worst one: Ice climbing.
Dammit!
Of course, I say that only partly in jest. But the reality of ice climbing is that it's a completely cold, wet and miserable pastime reserved only for masochists. I'm happy to strap on crampons and I even know how to wield a set of ice tools well enough to get me through a snowy or icy approach in an alpine setting. But as a climber, I still prefer rock to ice. In fact, one of the reasons I live in California is that I like sun and being warm, even in the winter. Not coincidentally, it's for this reason that there aren't very many ice climbing locations in California.
Still, there are a few random, scrappy ice crags here in the Golden State. One spot is located up Tioga Canyon, outside of Lee Vining in the eastern Sierra Nevada. But this area has been photographed a ton, and it's not very impressive. I wanted to find a new spot that hadn't ever been photographed. I wanted to create something visually unique and, more than anything, authentic. After years of living in Tahoe, I'd heard my climbing buddies whisper over rounds of beers in dark-lit pubs about a rare situation in which ice forms on a cliff band at Kirkwood Mountain Resort, of all places. At Kirkwood, there's a south-facing cliff containing these vertical tube or runnel features. Once in a cold blue moon, as the legend goes, conditions will align and runnels of water ice will fill these tubes.
That, to me, sounded interesting. I suddenly changed my perspective on ice climbing being this horribly painful and uncomfortable activity. Now I saw an opportunity. I saw an assignment to shoot something that had never been seen. That was something I could get fired up about.
I had a month to acquire these ice-climbing assets for Polartec. I waited and watched the weather, thinking the Kirkwood ice tubes probably wouldn't form, and that at the last moment I'd have to go down to Lee Vining and scramble to make something work there.
But that week, it snowed. The sun was peeking out here and there, but it was also extremely cold. In theory, conditions were such that the freeze-thaw melt cycle could actually yield ice at Kirkwood. The storm was still lingering in the area. I knew that once it moved out, the sun would come back (thankfully), which would instantly melt any ice in these south-facing cliffs.
I decided that I was feeling lucky. I called up my friends Todd Offenbacher and Zach "Zippy" Fletcher, two of the most passionate climbers in the Tahoe area, and also two of the most masochistic. When conditions get miserable, like in ice or alpine situation, that's when they appear to be loving life most!
We drove 45 minutes up to Kirkwood with a trunkful of ice gear, camera gear and brand new Polartec Power Shield Pro jackets. I'd never actually seen these Kirkwood cliffs with ice "in", despite skiing here 20+ days a year, and had no idea what to expect. When we arrived, we were all blown away. Fat runnels of vertical ice were plastering the inside of these tubes. We had hit pay dirt.
Zippy, being the most experienced ice climber in the group, deftly led up the most prominent tube and hung a rope for me to jug up and shoot top-down pictures. I jugged up and sat there, freezing my ass off, for the next few hours all while trying to keep my camera dry by stuffing it inside my jacket, and keeping my fingers at least warm enough to depress a shutter button. Spindrift off the cliff top was channeling down the tube and falling on me. Simultaneously, wind was blowing snow up the tube into my face. It was as full-on as ice climbing gets—the perfect place to put Power Shield Pro to the test and show it in action!
I thought about the coincidence that here I was, at Kirkwood Mountain Resort, where Allon and I first met all those years ago, only now shooting for him at Polartec. I thought about all that we had done together, both professionally and as friends, ever since first meeting. From where I was hanging on a rope, I could practically throw a snow ball and hit the office where Allon used to sit.
Zippy began leading up the ice tube again and I pushed through these uncomfortable, full-on extreme conditions to capture both still and motion content. I reminded myself that this was maybe the only chance I'd get to shoot these conditions in this setting. I pushed the limits of my camera, which was getting wet and the battery was dying in the cold. I was well out of my own comfort zone, suffering in this dark, wet, icy tube. But this was a once in a decade opportunity. We couldn't have asked for a better, more authentic conditions to show Power Shield Pro excelling. This photo wasn't something that just fell into my lap. It was something our whole team really worked to earn.
And I think that's the real definition of authenticity. Earning it, and working with people you are loving life and loving what they do. As miserable as I was, I couldn't help but smile. I was getting to work with some of my best friends, from Allon, to Todd down at the belay, to Zippy expertly leading this rare ice climb.
And I swear, if you could see Zippy's face through the spindrift, you'd see a big, fat, frozen smile.