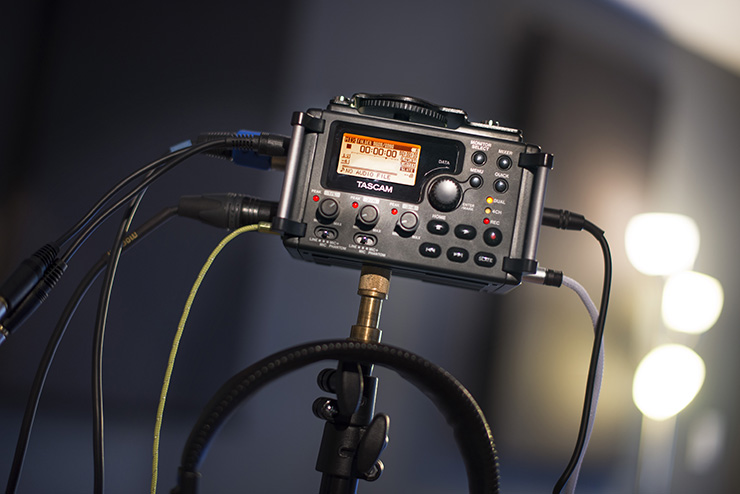 Are you using an external preamp when running audio into your Zoom H4n? —@BraleyPHOTO, via Twitter.
No, no preamp. Audio is the easiest thing in the world to screw up. In general, I prefer to make the systems so simple that even I can do it.
If I can get away with a shotgun mic on the camera's hot shoe and record audio directly to camera, I'll do that.
But in situations when using multiple cameras—which is almost exclusively during interviews—I will bring in an external recording device. Currently I'm using the Tascam DR-60D, a portable 4-channel linear PCM recorder.
Here's what we do: We run two microphones, a shotgun mic and a lavalier mic, into the Tascam. Each mic goes to a separate channel that we can control and monitor individually. This way, we're recording all our sound to the SD card of our "master device." Then, we plug a splitter into the output, and run audio directly to our two cameras. One mic goes to the right channel; one goes to the left channel of our Nikon HDSLR.
This way we already have our sound synced and the levels adjusted within each camera. Further, if there's a problem with our sound in one of the DSLRs (damaged or corrupt cord, etc.), then we know we have that master audio recorded to the SD card and we can just sync later.