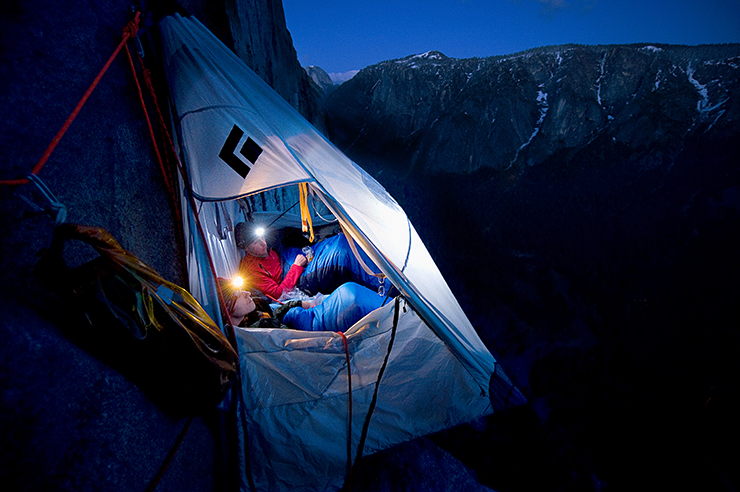 Nikon D700 / ISO 1600 / 14-24mm lens / f/4 / 1/15th second
I was just an impressionable, sponge-like 13-year-old when I started rock climbing. Not having any of my own money or gear, not to mention no driver's license nor even the rudimentary skills and knowledge one needs to not kill oneself while climbing were, back then to me, just minor details preventing me from setting sail on a vertical ocean of granite.
I bided my time reading John Long's improbable tales of climbing's greatest adventures. I poured over vintage climbing photos of the old masters blazing new terrain on Yosemite's El Capitan, literally inventing the very techniques needed to climbing something so colossal as they went. Equally fascinating to me was the photographic innovation and creativity happening alongside the cutting-edge climbs of Yosemite's Golden Age. The photographic techniques, and incredible positions, that some of my personal heroes like Tom Frost, Galen Rowell and Greg Epperson were able to attain back then blew my mind.
At 13 years old, it seemed too daunting to ever imagine how one might go about climbing a 3,000-foot wall. But I grew older. Each year, I climbed a little harder and a little higher on the cliffs surrounding my parents' home in Southern California.
By the time I was in college, I had a driver's license and a car reliable enough to shuttle me, each weekend, from my dorm room in the Bay Area to Camp 4 in Yosemite Valley, where, come Saturday morning, I felt like I'd been magically transported onto a living page of a storybook from my youth. Here I was, standing in the same place as all the ghosts and legends of American climbing had once stood. It actually gave me chills—(and to be honest, to this day, it still does.)
After many weekends away from college spent climbing easier routes located at the base of the Valley's tallest walls, one day I had an epiphany. I realized, suddenly, I was ready. … Ready, that is, to tackle the "Big Stone" itself: El Capitan.
I hatched a plan with a couple of climbers from Missoula, Montana, to tackle El Cap's first and still most famous route: the Nose. We did what every new aspiring Nose party does—we went out and bought way too much food and water, and packed it all into haul bags so heavy we could barely pick them up.
Hiking the haul bags to the base of the Nose (not a particularly long walk, mind you) became a monumental chore. I'd never had to try so hard, and yet there I was still standing on the ground!
Hiding our trepidation through gung-ho hoots and hollers, we started climbing up the wall. We were slow and suffered. It took us all day just to get up to Sickle Ledge, no more than a smidgen up the 3,000-foot wall.
We rapped that night, slept on the ground, and returned the next day, climbing a bit higher. Soon, the harsh reality that is big-wall climbing set in. We got the classic spanking all new wall climbers get, and had to rappel back to the ground, defeated and shamed.
I drove back to my dorm room in the Bay Area thinking, "Well, El Cap is impossible, unachievable, f—ing hard! I'll never, ever have the ability to climb anything that big."
But the years passed, and I continued banging my head against the wall, so to speak, eventually making my way up it. I was pursuing, with effortless joy, these parallel pursuits of photography and climbing—and combining them at every opportunity I could. I started seeing my work in more and more climbing magazines, and on the covers. Feature story after feature story came my way. Eventually, I became known as one of the "go-to photographers for climbing" outside of our little niche world.
Sitting in my dorm room one afternoon, I got a call from Sport's Illustrated; they wanted me to shoot a profile of a guy from Berkeley, California, named Chris McNamara.
"What's the angle?" I asked.
"This kid has climbed El Cap 54 times!" the editor exclaimed. "And he's only 21. He estimates he's spent 10 percent of the last seven years of his life living on the side of a wall!"
Being just slightly older, I was interested in meeting this guy, especially because El Cap still seemed so improbable. The idea that Chris could drive from Berkeley to Yosemite, arriving at midnight, then go and climb El Cap the next morning, and still make it home in time for dinner was mind-boggling to me.
When I met Chris, we became fast friends. We were of similar ages and backgrounds and philosophies, and through my time with him I began to see and learn the systems really good climbers use to be efficient up on El Cap.
And over time, I was able to draw parallels between the way that Chris perfected his craft and skill for light-and-fast big-wall climbing, and begin to apply some of those techniques to photographing big walls as well.
This is a recent photo of Chris McNamara and Tommy Caldwell lounging in a portaledge on El Cap as the sun is setting. Tommy, who is one of the most legendary climbers of our time, has dedicated the last six years of his life to free climbing this section of El Cap called the Dawn Wall. A couple of years ago, Chris and I joined Tommy over multiple days to support him (Chris) and document his efforts (me).
It's crazy for me to look at this photograph, taken over a decade after my failed initial foray onto the Big Stone. Every now and then, certain photographs miniaturize space and time, and become this perfect looking glass that allow you to see where you've been and how far you've come; how you've grown. This is one of those photos for me.
Aside from this being a picture of Tommy Caldwell, there's nothing particularly extraordinary about this climbing photograph—it could be any two climbers lounging on the ledge after a long day on the Captain, swapping stories and bonding in this ethereal, surreal environment.
But it is extraordinary to me, personally, to remember how I felt the moment I depressed the shutter to capture this picture: I felt … comfortable. As if I were sitting at my desk doing work. Only here I was, hanging off a 9mm rope 2,000 feet above the ground, moving around the way Chris McNamara taught me to, and pushing my creativity to tell stories that I only hope would do my heroes—Tom Frost, Galen Rowell, Greg Epperson, John Long—proud.